Two extraordinary 2011 crop formations have been reported in the town of Poirino, Italy, on June 13 and 20, 2011. Poirino is a town in the Province of Turin in the Italian Piedmont region located about 12 miles (20 km) southeast of Turin (Torino) where the famous Christ Shroud is kept.
There have been several odd crop formations recently in the Netherlands including the one above from April 24, 2011 near Bosschenhoofd (the "Woodenhead" area), Holland
The number of crop formations appearing in Russia has also increased including the image from Stavropol, Novoaleksandrovsk on May 30, 2011
The crop formation season has been activate in the United Kingdom. A few weeks ago this snake-shaped formation was discovered in Wilton Windmill, near Wilton, Wiltshire
Spirit Rescue International™
Providing no-cost professional spiritual help, personal support and guidance
Take the first step towards genuine peace of mind
The Spirit Rescue International™ Haunted Help Forum
*Join Our Group On Facebook*
Join Eric Altman, Lon Strickler and Sean Forker LIVE each Sunday at 10 PM ET as we go
Beyond the Edge!
ANOMALIST BOOKS
Works on maverick science, unexplained mysteries, unorthodox theories, strange talents, and unexpected discoveries. Please check out their excellent and diverse catalog
The 'C' Influence
Actualizing Esoteric Discussion
Become a fan of 'Phantoms and Monsters' at Facebook
"The latest news from beyond the mainstream"
Join Ben & Aaron for their weekly podcast!
Check out Mysterious Universe Plus+ all access format!
Astral Perceptions - Discussing ultraterrestrial and multidimensional phenomena and the proficiency of remote viewing

Click here to check out Stan's most recent book!
Join the
The Social - Paranormal Network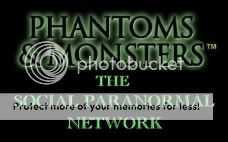 A NETWORK OF INVESTIGATORS, ENTHUSIASTS AND THOSE SEEKING THE TRUTH
THROUGH PARANORMAL EDUCATION AND DISCUSSION
(410) 241-5974

Phantoms and Monsters
Now Available on Kindle