I noticed an unusual video from 2008 posted by Sharon Lee at
The Bigfoot Field Reporter
that shows 'something'. In light of the upcoming Sanger Paranormal 'Bigfoot evidence' press conference and being only 3 years removed from the 'Georgia Bigfoot Hoax', I thought I'd present these videos for your interpretation.
Supposedly this creature was in a forested area near the Pennsylvania / Ohio border.
Click for video - Western Pennsylvania forest creature sighting
Click for video - Western Pennsylvania forest creature sighting 2
This next video is most likely computer enhanced...though it is creepy. I have interviewed witnesses who claim to have seen very similar entities. What do you think?
Click for video - Shadow creature caught on camera
Spirit Rescue International™
Providing no-cost professional spiritual help, personal support and guidance
Take the first step towards genuine peace of mind
The Spirit Rescue International™ Haunted Help Forum
*Join Our Group On Facebook*
Join Eric Altman, Lon Strickler and Sean Forker LIVE each Sunday at 10 PM ET as we go
Beyond the Edge!
ANOMALIST BOOKS
Works on maverick science, unexplained mysteries, unorthodox theories, strange talents, and unexpected discoveries. Please check out their excellent and diverse catalog
The 'C' Influence
Actualizing Esoteric Discussion
Become a fan of 'Phantoms and Monsters' at Facebook
"The latest news from beyond the mainstream"
Join Ben & Aaron for their weekly podcast!
Check out Mysterious Universe Plus+ all access format!
Astral Perceptions - Discussing ultraterrestrial and multidimensional phenomena and the proficiency of remote viewing

Click here to check out Stan's most recent book!
Join the
The Social - Paranormal Network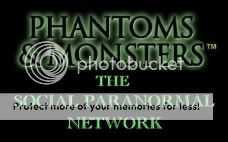 A NETWORK OF INVESTIGATORS, ENTHUSIASTS AND THOSE SEEKING THE TRUTH
THROUGH PARANORMAL EDUCATION AND DISCUSSION
(410) 241-5974

Phantoms and Monsters
Now Available on Kindle