Haunted Houses of Wales
After the tragic tale of a servant's suicide emerged this week with a hoax picture of a ghost outside the historic Llanelly House, Sion Morgan revisits some of Wales' supposedly haunted buildings
Miskin Manor Hotel
Miskin Manor, near Cardiff, dates back to the 10th century and is reputedly haunted by a ghostly lady who appears regularly in the bar area between midnight and 1am. The hotel porter is said to have grown used to her appearances.
Hotel owner Ben Rosenberg believes she was a former resident of the house who is simply following a path between the bar and the drawing room she once regularly walked in life.
"There used to be a staircase where the bar stands today so she is evidently coming from the drawing room and going up the stairs just as she did when she lived here," he said.
Castell Coch
Castell Coch was built on the outskirts of Cardiff in 1870 for the wealthiest man in the world, the Marquis of Bute, and designed by architect William Burgess.
It is supposedly haunted by the ghost of a lady who, following the death of her son in nearby woods, died of a broken heart.
Following the death of the Marquis of Bute, Lady Bute continued to live in the castle but was, according to the story, driven out by the constant appearances of the ghostly white lady.
Llancaiach Fawr Manor
Llancaiach Fawr Manor in Treharris, Merthyr, has been called the most haunted house in South Wales.
"Llancaiach Fawr Manor is one of the spookiest and most atmospheric places I've ever been to," paranormal investigator Phil Wyman has said.
"And when the lights go out and it's pitch black, there is an overwhelming sense of desolation."
The story goes that the grand staircase is haunted by two children, who appear then disappear. Several other ghostly children are apparently loose inside the house, their giggling voices clearly audible.
Author of Haunted Wales, Richard Jones, said: "The costumed female guides have long grown used to their aprons falling to the ground at the most inopportune moments when their bows have been untied by invisible impish hands."
The manor's kitchen is also said to be haunted by a lady in a white blouse who appears to be baking bread and who is assumed to be the ghost of Mattie, a former housekeeper.
Aberglasney
Legend has it that in the 1630s a housekeeper at Aberglasney in Llangathen, near Carmarthen, saw five candles floating around the house's newly plastered "blue room".
The next morning, five maidservants were found dead in their beds. A charcoal stove, left burning to speed the drying of the plaster, had killed them as they slept.
Over the following centuries, the "corpse candles" became one of Aberglasney's most abiding legends.
Since the 17th century ownership of the house has changed a number of times.
The phantom of Thomas Phillips, who bought the house in 1803, has apparently appeared to gardeners, ser-vants and tradesmen, while more recently guides have heard his ghostly footsteps.
Builders working on the regeneration of the house have also reported a young girl standing in a corner of the basement, apparently cooking.
It is, however, in Pigeon House Wood at the rear of the property that the most disturbing phenomenon is reported – many visitors sense a feeling of dreadful unease, intensifying as they descend the earthen path until, at the edge of the wood, it is replaced by sudden fear and eerie coldness.
The haunted Skirrid Inn
The Skirrid Mountain Inn
The inn in Llanfihangel, near Abergavenny, dates back to 1110 when John Crowther was sentenced to death for sheep stealing and hanged from a beam of the inn.
The pub also doubled as a courthouse and over the next 800 years 182 felons would meet a similar fate.
The spirits of those executed here are said to often make their presence known in a direct and disturbing manner, including visitors feeling the overwhelming sensation of an invisible noose being slipped around their necks and tightening, leaving marks in the days afterwards.
Newton House
Newton House in Llandeilo was originally home to the Rhys family's castle, the ruins of which still loom large over Dinefwr Park.
It is haunted by a "white lady" who is thought to be the wronged wraith of Elinir Cavendish, first cousin of the lady of the house in the 1720s, although some versions of the story say she was her sister.
Tradition maintains that she was being forced to marry a man that she didn't love and to escape his clutches she sought sanctuary with her family in Dinefwr Park.
Incensed by the rejection, her spurned suitor murdered her in cold blood.
Her ghost has walked the building ever since.
Maes-y-Neuadd Manor
The sturdy manor in Talsarnau, near Harlech, dates back to the 14th century but today operates as a country house hotel and reportedly boasts one haunted bedroom, the Morfa suite, in which guests can look forward to the enchanting possibility of being lulled into their slumbers by a female phantom of good intentions.
She is thought to be the ghost of a former children's nursemaid wearing long gown and mobcap. Author Richard Jones said: "Nobody who has seen her has found her to be in the least bit frightening or troublesome, indeed witnesses say that she has a very calming presence and emits an aura that helps them drift into a deep and restful sleep."
Dylan Thomas' Boathouse
The boathouse in Laugharne was the poet's home for the last four years of his life.
With his widow Caitlin unwilling to live in the boathouse after Thomas' death, his mother, Florence became the tenant, staying until she died there in 1958.
Her ghost is believed to haunt the house which is now a shrine to the memory of her son.
Staff have often been surprised when opening the premises at the beginning of the day to hear the sound of a chair scraping over the floor upstairs, as though someone has quickly risen from a table to avoid them.
The Robber's Grave at St Nicholas churchyard
The grave in Montgomery is that of John Davies, a "melancholy, grief-haunted man" whose past was shrouded in mystery but who in 1819 became the steward on the rundown farm owned by a widow named Morris and her daughter, Jane.
Thanks to his dedication, the fortunes of the business were soon reversed.
But, according to legend, the sudden success angered a local man, Thomas Pearce, who had hoped to benefit from the widow's misfortune by acquiring the property at a bargain price. Davies also made an enemy of Robert Parker when his fiance Jane Morris abandoned him for Davies.
The two men carried out a violent robbery, leaving behind evidence implicating Davies who found himself charged with highway robbery and sentenced to death.
As the noose was tied around his neck he shouted: "If I am innocent, the grass, for one generation at least, will not cover my grave."
And today, the story says bare patches can still be seen on the grave and that harm will befall anyone who attempts to tend it. -
walesonline
**********
Chattanooga saloon has long, possibly haunted history
Chattanooga business owner Shane Hendrix recently purchased the restaurant formerly known as The Red Lantern and found out the building has a long, unique history.
"My understanding was that it was originally built as a saloon and bordello," Southside Saloon owner Hendrix said.
Originally built in the last 1890s, the building has held many other businesses, such as a bottling company, a Mexican restaurant and then The Red Lantern.
Upstairs there are still several small rooms that were used when the business was a brothel.
The last two owners changed the business to its current name and Hendrix kept that name when he bought the space about six months ago, although still considers changing it.
"We decided to keep the name, only because we couldn't think of another one," he said. "We thought about changing it back to The Red Lantern, but there was a lot of negative stuff that went with that."
The old building, which is located at 1301 Chestnut Street, is thought to be haunted and Hendrix is in talks with the leaders of a Chattanooga ghost tour who may make the business the last stop on the tour.
Hendrix said there are supposedly three ghosts, one of whom employee Darlene Wallace has named George.
"He's a big man with white hair and a white beard," Wallace said.
Although Wallace is the only one who has actually seen him, other employees said they have seen evidence of him.
Hendrix said there was an unusual instance when a clock fell off the wall and into a trash can without disturbing any of the items below.
"I have no idea how the stuff in front of it didn't move," he said.
Wallace said George likes to swing the pots and that he threw a pot across the room.
"He's a prankster," she said.
But after about a month, Hendrix said business is good for the most part.
"We've got to find a way to get the evening crowd up," he said.
The night schedule includes karaoke on Wednesday nights and live music other nights, and Hendrix said he is willing to give good deals so he can get the word out about the business.
Some people at other businesses who are next door said they didn't realize what was in the big, red, brick building.
"Even the bands aren't driving it," he said. "It's coming up fall and we've got TV, we've got football, so maybe it will be a little different in the fall, but I'm willing to just about give it away to get people in the door."
He is working on deals such as 50 cent drafts and other discounts to draw crowds.
Hendrix also made the difficult decision to make the restaurant non-smoking.
"This was TVA's smoking cafeteria," he said. "It was a big decision but there is evidence in here right now (that it was right). There are children. We couldn't have anyone under 21 ever. We were turning a lot of people away from the convention center." -
nooga
***********
By Steven Wagner
- Ours is a culture that "worships" celebrities. It's always a thrill when we spot a star of film, music or television in the flesh. Strangely, the excitement of celebrity spotting seems to continue even when they are no longer in the flesh, but in the spirit. It often makes news when the ghost of a celebrity -- especially a recently departed figure -- is sighted. Here is Part One of our series of reports about the ghosts of Hollywood legends that have been seen over the years.
Heath Ledger
Heath Ledger was one of the most promising actors of his generation, having delivered impressive performances in such films as Brokeback Mountain and The Dark Knight, in which his portrayal of The Joker drew wide acclaim. He died in January, 2008 of what was ruled an accidental overdose of sleeping pills.
Ghost: Actress Michelle Williams, his ex-fiancé, says she has seen Ledger's spirit on two occasions. The first time, she was awakened at night by eerie noises, then realized her bedroom furniture was being moved around. She saw a shadowy figure, which she admits scared her "half to death." In the second instance, she says the apparition was much more vivid and spoke, telling her he was sorry for not being able to help raise their daughter.
James Dean
Although he only made a handful of films, Dean was one of the most influential young actors of the 1950s, forcefully depicting the angst of rebellious youth in East of Eden and Rebel Without a Cause. In 1955, he was killed while recklessly driving his Porsche Spyder on a California road.
Ghost: Since the accident, there have been several reports of Dean's spectral Porsche speeding along the highway in the vicinity of his tragic death. More famously, there may be a haunting "curse" attached to the car itself. It may have begun before the accident when fellow actors, including Alec Guinness, warned Dean about the car, saying they had a bad feeling about it. Many other accidents and deaths have been documented in connection with the car.
Elvis Presley
He was called "The King of Rock 'n' Roll", having spun out dozens of #1 hit records, starring in popular teen-aimed films, and winning the hearts of millions around the world. Tragically, Elvis was consumed by his own fame and died in August, 1977 of a heart attack, possibly drug related.
Ghost: Despite the urban legend that Elvis faked his death and is still alive, his ghost has been reported in several locations, including his former home, Graceland in Memphis (now a tourist attraction) and at the Heartbreak Hotel on Elvis Presley Blvd. near Graceland. Elvis's ghost also has been spotted at the Nashville recording studios, where he made some early records, and at the Las Vegas Hilton, where the singer performed in his later years.
Orson Welles
Orson Welles was one of the most brilliant, innovative and creative figures of theater, radio and film in the 1930s and '40s. His landmark film Citizen Kane (1941) still is considered by many critics to be one of the greatest films ever made. He died in 1985 of a heart attack at his Hollywood home at the age of 70.
Ghost: In his later years, Welles became an imposing figure, often appearing in his trademark black cape and wide-brimmed hat and puffing on a cigar. It's this figure that has been seen in his favorite restaurant, Sweet Lady Jane's in Los Angeles, sitting at the table were he usually dined. Accompanying the apparition, say the staff who have seen it, is the smell of Welles' brand of cigar and even the brandy that he enjoyed. -
Ghosts of Hollywood Legends - Part 1
:
Next week - Part 2
**********
Ghostly Footsteps Haunt an Ancient Church (Video)
Haunted Possessions
Haunting photos taken at gym
Sitting in Haunted Room? Not a Ghost of a Chance, Say Cops
Thought to be possessed by ghost, man gets more earthly diagnosis
Midland psychic offers seance services to X Factor star Tulisa
Secret U.S. experiments to prompt 2nd Coming?
Apports, Mediums and Poltergeists
Want to do a paranormal seminar at sea with Haunt Jaunts?
Marie Leveau's tomb
Is Main Street a Haven For Paranormal Activity?
Plants and the Paranormal (with Video)
The Cursed House
The Liphook Coaching Inn Ghost
Cardiac Surgeon Tells of Veridical Near Death Experience
Exorcism in Russia
Ghosts and Spirits - Coast to Coast
Ghost blamed for car crash among supernatural 999 calls to police
Scariest Poltergeist Activity
Haunted: Moss Beach Distillery
I should've been looking for chupacabras, not ghosts in Mexico
Doppelganger Saves Platoon
Ghost in Blue Nightclothes
Spirit Rescue International™
Providing no-cost professional spiritual help, personal support and guidance
Take the first step towards genuine peace of mind
The Spirit Rescue International™ Haunted Help Forum
*Join Our Group On Facebook*
Join Eric Altman and Lon Strickler each Sunday at 8 PM ET as we go
Beyond the Edge!
Astral Perceptions - Discussing ultraterrestrial and multidimensional phenomena and the proficiency of remote viewing
Join the
The Social - Paranormal Network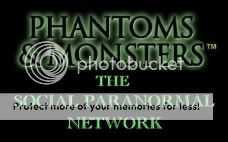 A NETWORK OF INVESTIGATORS, ENTHUSIASTS AND THOSE SEEKING THE TRUTH
THROUGH PARANORMAL EDUCATION AND DISCUSSION
ANOMALIST BOOKS
Works on maverick science, unexplained mysteries, unorthodox theories, strange talents, and unexpected discoveries. Please check out their excellent and diverse catalog
Become a fan of 'Phantoms and Monsters' at Facebook
"The latest news from beyond the mainstream"
Join Ben & Aaron for their weekly podcasts!
Check out Mysterious Universe Plus+ all access format!

Click here to check out Stan's most recent book!
Need an unique special occasion or business gift?
(410) 241-5974

Amazing technology that allows us to print almost anything in light!