The Next Edition of Bigfoot Kabuki Theater
PART 2 OF 10 OF WHAT REALLY WENT DOWN IN MAY OF 2008 BIGFOOT NOT A HOAX
Just as I guessed, the 'Men In Black' took the Bigfoot away. They threatened Rick to the point where it made him cry. The MIB also gave them suggestions on how to manipulate the public...but also said that no one would believe them regardless. After 3 years you'd think they would have come up with a better story that this. But considering the source....well, anyway.
whoa...Rick got a fancy new bigfootin' tracker truck
-----
Todd Standing And Matt Moneymaker Are Working Together To Fake Bigfoot Research
From Tim Fasano's
website
:
"Why is anyone giving this stupid photo any cred at all. I hear that the Finding Bigfoot crew is now working with Todd Standing. Whats next, Tom Biscardi? Tom is a friend of mine and he would never push something so lame as this. Matt Moneymaker may be charming and all that but Standing is a known hoaxer. By associating with him, and having him on your show, you are now a hoaxer as well. There is no other conclusion that can be drawn.

If you ever find your way back to Florida, and have at least one week to spend here. I will show you where the skunk ape is at. Your equipment will allow us to make a real discovery. You must have one week and be willing to work my way (20 hours a day). There are no Seminole Indians were we will go, only skunk ape.

Do people not see what a joke this Bigfoot stuff is becoming.

Again, anyone who wants to find Bigfoot and has the right equipment, I will show you where to look. If you have a month, we may capture the beast. At best, we will get great images of it.

If you think this photo taken by Standing (photo shoped) is real, then there is no hope anymore."
-
Todd Standing And Matt Moneymaker Are Working Together To Fake Bigfoot Research
-----
Two North Carolina nurses are planning to hunt for Bigfoot
Read more: The Bladen Journal - Looking for Bigfoot Two local nurses are planning quite an adventure
Two enterprising Bladen County women have devised a plan to search for Bigfoot, a.k.a. Sasquatch.
Linda Durden and her friend, co-worker Janette Skinner plan to spend some time in September in the Uwharrie National Forest near Asheboro on a mission to gather concrete proof Bigfoot exists.
Why Uwharrie? According to Skinner, Animal Planet did a special in February called Finding Bigfoot. The special mentioned sightings in the Uwharrie National Forest, said Skinner.
"She's always talked about it and watched the movies," said Skinner of her friend Durden. "We never heard about it (the sightings in North Carolina)."
Durden and Skinner have been fishing and camping in the Uwharrie forest for several years. They both say they were not aware of the Bigfoot sightings nor have then seen or heard anything out of the ordinary.
When asked if they truly believe the stories, they both thought for a minute.
"I don't know if he exists, but I know things exist in the woods which we can't explain," said Skinner.
Durden said, "I think he's an animal or some other creature that didn't evolve."
The duo are adventurous women who have worked together at the Elizabethtown Nursing Center for the past 12 years. The ladies say they enjoy camping and fishing together.
Skinner said in the years past, the two have always stayed in a camp ground near Badin Lake and fished on the river. They say come September they will go primitive camping in the woods away from the more populated camp ground.
"We planned a trip this year and decided we could do just as a good of job (as professional Bigfoot hunters)," said Skinner. "We want to try and get a good photo."
But aren't they apprehensive? Durden said they will be armed, but they hope to not have to use it. Bigfoot has never been known to harm anyone.
"If we feel threatened now we'd have no choice (but to defend ourselves)," said Durden. "We're prepared."
Durden and Skinner both said Bigfoot has been known to throw gravel or rocks at humans to try to frighten them away. He's never actually harmed anyone.
They have tried to contact Michael Green. His reports of a sighting are the reason Anmimal Planet traveled to Uwharrie. They are still waiting to speak with him.
"I hope we can bring some type of 100 percent proof (he exists) back," said Durden. "It's a large forest. We have got a few areas in mind we are going to hit."
They said they plan to look for things like twisted trees, hair and, allegedly, a Bigfoot will sleep on a bed of sticks. They aren't certain they will be able to find an actual footprint due to the rough, rocky terrain.
They both say they will try various methods of baiting including the use of a Zagnut candy bar, which is reportedly his favorite, said Durden, and peanut butter to try to lure Bigfoot where they can capture a good conclusive photo.
The duo says whether or not they are able to gather conclusive proof Bigfoot exists, they plan to have a great time camping. -
bladenjournal
-----
More Standing...Bigfoot Boom in Banff?
If nothing else, the news is bound to make big strides with the Banff tourism industry.
No longer will Alberta's best-known mountain park depend solely on breathtaking scenery and abundant wildlife to impress visitors and lure overseas tourists.
And no more envy towards other famous vacation spots like Loch Ness and Lake Okanagan, where legendary creatures are rumoured to lurk.
Banff now has Bigfoot. Lots and lots of Bigfoots, in fact.
Yes, it's an allegation that would have Ripley wondering whether to Believe it or Not, and P.T. Barnum reaching for his cheque book, but the mountains west of Calgary are a hotbed for the huge-footed primates.
That's the assertion of a dedicated bigfoot research organization based near Calgary, which claims not only to have video and photo evidence of the mythical beast, but DNA proof as well.
"When I first started, I was a skeptic, but not anymore — now I'm a wholehearted believer in the species," said Todd Standing, spokesman for the Sylvanic Bigfoot group.
Standing's allegations of a Bigfoot colony living near the border of Banff and Kootenay national park will raise many eyebrows, but his evidence has piqued the interest of the Discovery Channel.
This week, crews from "Finding Bigfoot," a hit show on Discovery's Animal Planet channel, are filming in the Calgary area, and Standing says the upcoming episode will be centred upon Sylvanic's discoveries.
"We've had exceptional results and we're working with people doing DNA analysis," said Standing.
He says preliminary results from hair samples sent in for testing suggest an unknown species of primate, while video and photographs suggest a creature larger than a gorilla, with human-like features.
Of course, it's that latter evidence that's bound to have the skeptics taking sasquatch-sized swipes at Standing, particularly the photographs he says are proof of Bigfoot.
Paranormal footage, as a rule, is supposed to be grainy, badly-focused and jittery, as if the camera was assembled by Fisher-Price and mounted to the bumper of a gravel truck.
Not Sylvanic: Standing boasts a collection of sharp video clips and crisp photographs of Bigfoot, showing far, far more than the usual hirsute primate dashing behind the nearest bush.
Instead of blur, we get full-face portraits of the creature, peering from behind trees.
"I've had multiple interactions with them, and I've filmed them and photographed them on many occasions," said Standing.
"It's a real, living breathing animal, which I got within 60 or 70 yards of."
What the producers of Finding Bigfoot make of all this remains to be seen, as their quartet of sasquatchologists examines the Alberta evidence to see if it's on solid footing.
The show has gone across North America investigating sightings of the creature, with the network "committed to looking for the Bigfoot until it's found."
Standing says he has — though he knows his belief in Bigfoot and the proof he produces from the Banff backwoods opens him to mockery, derision and the suggestion he should sober up.
But he accepts the skeptism, because he originally joined the Sylvanic team with the intent of disproving the ancient story of an ape-like creature hiding in the wilderness of North America.
"I thought it was a combination of hoaxes and mistaken identities, and I wanted to prove it wasn't true," said Standing.
Now, he says Bigfoot is a fact — and with weeks, he hopes to have the DNA evidence to prove it.
"We hope to have results by October," said Standing.
If that's the case, tourism officials in Banff will surely be thrilled. As it is, they welcome the attention of the popular television show, saying any link with Bigfoot is a bonus for visitors.
"Anything interesting that attracts people is a good thing — it seems like some harmless fun," said Mary Morrison, spokeswoman for Banff Lake Louise Tourism.
"I mean, who wouldn't want to see a Bigfoot?" -
calgarysun
ALSO...
In his seven year quest to prove to the world that the legendary primate known as Bigfoot truly exists, Calgary's Todd Standing has relayed stories that many people would consider to be outrageous.
Having made several expeditions into the northernmost regions of the Rocky Mountains, the 38-year-old cryptozoologist and wilderness guide claims to have discovered entire communities, or, "domiciles," of the ape-like creatures found in North American folklore. He even purports to have had frightening, potentially life-threatening physical encounters with the creatures, also known as Sasquatches, over the years.
This week, Standing's seemingly outlandish claims are getting some major media attention as The Discovery Channel is in town to shoot on episode on the former University of Alberta student for its popular program Finding Bigfoot. Producers of the show would not comment on the episode, but they are holding a forum Wednesday at 6 p.m. to be filmed at Camp Horizon near Bragg Creek, where people are invited to share Bigfoot stories, meet the cast, or, simply listen in on the action.
They will also be conducting interviews with Standing as well as Nakoda First Nations people who support his findings, throughout the week in Calgary and Kananaskis.
"I have encounters one in 10 times that I go out, where I'm successful and actually get close to the group," says Standing.
"The group I'm studying right now is so deep in national park territory that they're not used to running away like most Bigfoot groups are. These groups will stand their ground. I've even had bluff charges (from them)."
In a couple of encounters Standing claims he's been physically pushed and thrown away from the Bigfoot domiciles he's come upon.
In one terrifying encounter he reports that a male charged at him. "He was crashing an 80 pound boulder into the mountain as he approached me ... until I submitted to him," Standing says.
"When I laid down flat and let go of my knife, he moved away and gave me the ability to leave the area."
According to Standing, The Discovery Channel is not the only television show to express interest in him.
Two months ago he says he spoke with the National Geographic Channel, for a program that has yet to air, and he's also sat down with the producers of the program Call Out Search and Rescue, which airs on such channels as Sun TV and Access.
Standing also says he's been in talks with Les Stroud, host of the television series Survivorman and Beyond Survival, seen on OLN.
Standing says that after shooting their interview segment with him, the Finding Bigfoot team plans to make its own trek into the areas where he claims to have spotted the primates.
But Standing does not have faith that they'll find what they're looking for in such a short period.
In a week, he says, "they can't go in really deep. . . . It's taken me years of hard work and determination." -
calgaryherald
-----
The Bigfoot Field Reporter Sharon Lee
posts about a new site that regularly updates on the work of M.K. Davis...who's theories regarding 'Patty' have sparked controversy over the years.
Spirit Rescue International™
Providing no-cost professional spiritual help, personal support and guidance
Take the first step towards genuine peace of mind
The Spirit Rescue International™ Haunted Help Forum
*Join Our Group On Facebook*
Join Eric Altman and Lon Strickler each Sunday at 8 PM ET as we go
Beyond the Edge!
Astral Perceptions - Discussing ultraterrestrial and multidimensional phenomena and the proficiency of remote viewing
Join the
The Social - Paranormal Network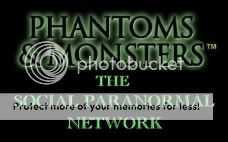 A NETWORK OF INVESTIGATORS, ENTHUSIASTS AND THOSE SEEKING THE TRUTH
THROUGH PARANORMAL EDUCATION AND DISCUSSION
ANOMALIST BOOKS
Works on maverick science, unexplained mysteries, unorthodox theories, strange talents, and unexpected discoveries. Please check out their excellent and diverse catalog
Become a fan of 'Phantoms and Monsters' at Facebook
"The latest news from beyond the mainstream"
Join Ben & Aaron for their weekly podcasts!
Check out Mysterious Universe Plus+ all access format!

Click here to check out Stan's most recent book!
Need an unique special occasion or business gift?
(410) 241-5974

Amazing technology that allows us to print almost anything in light!