The Paranormal Pastor, Rev. Robin Swope, is a writer and has been a Christian Minister for more than 17 years in both Mainline and Evangelical Denominations. He holds a B.A. in Biblical Literature and finishing an M.Div. In Pastoral Ministry with an emphasis on Marital and Family Counseling. He has served as a Missionary to Burkina Faso, and has Ministered to the homeless in New York City's Hell's Kitchen. He is the founder and chief officiant of Open Gate Ministerial Services and a Church Council member and pulpit minister of St.Paul's United Church of Christ in Erie, Pennsylvania. He is also a freelance journalist for Examiner.com, has a column in the Tri-State Senior News and has also written for Fate Magazine. As a Seminary trained exorcist he has done consulting work with various paranormal investigators and television productions in the United States well as investigators and writers across the globe. His blog is at
The Paranormal Pastor
Rev. Swope's most recent book is
Eerie Erie: Tales of the Unexplained from Northwest Pennsylvania
Join Eric and Lon for the best in alternative talk radio! LIVE on Sunday 8 PM ET / 7 PM CT - See you in the chat room! Go to Beyond the Edge Radio, click the 'Listen Live and Chat' link in the upper right corner then click the 'Tune In' button - Listen live in one window and chat in another.
**********


Join Eric Altman and Lon Strickler each Sunday at 8 PM ET as we go
Beyond the Edge!
Spirit Rescue International™
Providing no-cost professional spiritual help, personal support and guidance
Take the first step towards genuine peace of mind
The Spirit Rescue International™ Haunted Help Forum
*Join Our Group On Facebook*
ANOMALIST BOOKS
Works on maverick science, unexplained mysteries, unorthodox theories, strange talents, and unexpected discoveries. Please check out their excellent and diverse catalog
Become a fan of 'Phantoms and Monsters' at Facebook
"The latest news from beyond the mainstream"
Join Ben & Aaron for their weekly podcasts!
Check out Mysterious Universe Plus+ all access format!
Astral Perceptions - Discussing ultraterrestrial and multidimensional phenomena and the proficiency of remote viewing

Click here to check out Stan's most recent book!
Join the
The Social - Paranormal Network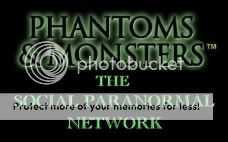 A NETWORK OF INVESTIGATORS, ENTHUSIASTS AND THOSE SEEKING THE TRUTH
THROUGH PARANORMAL EDUCATION AND DISCUSSION
Need an unique special occasion or business gift?
(410) 241-5974

Amazing technology that allows us to print almost anything in light!