Click for video -
Antarctic Station Mawson
There's been 'a buzz' the past week over a video from the Mawson Australian Antarctic Station. I'm not going to guess as to the identity of the anomaly seen in the video...but there are many claiming that this is proof of the Planet-X or a doomsday comet. The claims, to this point, are that Comet Elenin is everything from an elaborate hoax, to a piloted alien spacecraft, to a stray neutron star, to Planet-X itself, and on and on. The speculation began when Laura Knight-Jadczyk posted
Comet Elenin is Coming!
. She discussed the
theories of J.M. McCanney
-
Planet-X, Comets and Earth Changes
- and his predictions of Earth changes due to alignments between the Earth, Comet Elenin and the Sun. At the same time there was increased speculation about an impending 'pole shift' and the consequences because of it.
I don't know what your thoughts are on this subject but I'm not buying into it just yet. NASA is saying 'nothing to see here, folks!' Not that I believe everything the space agency comments on...but in this instance, I think there needs to be time for a sanity check. Lon
Spirit Rescue International™
Providing no-cost professional spiritual help, personal support and guidance
Take the first step towards genuine peace of mind
Look for the SPIRIT RESCUE INTERNATIONAL Exclusive
in the Halloween Edition of HAUNTED MAGAZINE
The Spirit Rescue International™ Haunted Help Forum
*Join Our Group On Facebook*
Join Eric Altman and Lon Strickler each Sunday at 8 PM ET as we go
Beyond the Edge!
Astral Perceptions - Discussing ultraterrestrial and multidimensional phenomena and the proficiency of remote viewing
Join the
The Social - Paranormal Network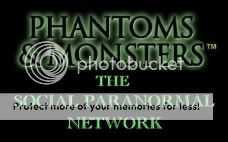 A NETWORK OF INVESTIGATORS, ENTHUSIASTS AND THOSE SEEKING THE TRUTH
THROUGH PARANORMAL EDUCATION AND DISCUSSION
ANOMALIST BOOKS
Works on maverick science, unexplained mysteries, unorthodox theories, strange talents, and unexpected discoveries. Please check out their excellent and diverse catalog
Become a fan of 'Phantoms and Monsters' at Facebook
"The latest news from beyond the mainstream"
Join Ben & Aaron for their weekly podcasts!
Check out Mysterious Universe Plus+ all access format!

Click here to check out Stan's most recent book!
CLICK THE BANNER TO USE YOUR
20% OFF COUPON CODE!