The supernatural underworld of haunted Birmingham
The paranormal world never rests, and ghouls and spooks will have a licence to chill again on Halloween on Monday... and Birmingham and the West Midlands are renowned for horror stories.
Much of the strange phenomena that has puzzled ghostbusters down the years has been collated on an internet list describing things that go bump in the night, tales of the unexpected and magical mischief.
The log – paranormaldatabase.com – provides a fascinating insight into the myths and legends that have been rampant in the region.
Based on records held by the database, there has been 81 instances of supernatural activity reported in the West Midlands. But there are probably hundreds of claims of paranormal poltergeists, ghosts and the spooks that remain unrecorded.
FOOTBALLER IN A HURRY
IT'S well-known that footballers are a superstitious breed and Aston Villa's England under-21 international Fabian Delph is no exception. The talented midfielder rapidly checked out of 800-year-old New Hall Hotel in Sutton Coldfield just 40 minutes after he signed for Villa in 2009.
The former Leeds United player claimed furniture was moving in his bedroom and he immediately moved out and found a new temporary home.
Guests and staff at the residence had also seen a ghostly vision which had been blamed for unexplained loud bangs. Other restless spirits at the hotel include former owner George Sacheverell, who was suspected of practising black magic and devil worship, a cavalier who appears in the kitchen courtyard and a lady in dark clothing always accompanied by a spectral hound. The most gruesome tale concerns a man executed by the Duke of Cumberland in 1785 whose severed head apparently floats across the htel grounds looking for his body.
CURSE OF ST ANDREW'S
LOCAL legend has it that many years ago gypsies were evicted from the site of Birmingham City's St Andrew's stadium and placed a curse on the club as revenge. The travellers' spell has since been blamed by fans for any misfortune the club suffers.
BUTCHER OF BARWICK
MANY streets in Birmingham also have their own resident phantoms.
A man wearing a top hat and tails is said to stroll along Sherbourne Road, Acocks Green, picking up papers, with while the ghost of Wilfred Barwick, a local butcher murdered in 1780, is said to haunt the site of his death in Coleshill Road. He was last seen stepping out in front of a security van, vanishing as the driver tried to talk to him.
SHAKE, RATTLE AND...
THERE have many unexplained bone-chilling encounters with visitors from the other side who were quite happy to reveal their identities.
The ghost of murderer Samuel Greatrex created loud knocks, rattled chains and generated footsteps day and night at the home of a Mrs Keogh in Garrison Lane, Small Heath, during 1963. A year later, Mrs Keogh fled her haunted house but the spirit accompanied her to her new home in Upper Thomas Street, Aston, and brought his disturbances with him.
Through a medium, Greatrex later apologised to Mrs Keogh and promised to quieten down – which he did.
THE MELTING MOTHER
SOME of the close encounters have been based on chilling episodes in the area's history. Erdington residents have been terrified for years by a tale of a melting woman.
A priest waiting to use a public phone box in Station Road was held up by the woman chatting inside. When the priest opened the kiosk door, the figure of the woman melted away.
It is rumoured that the lady had lost her children in a house fire and used the public phone to call the emergency services. She later killed herself. -
birminghammail
Truly Weird: Real-Life Cases Of The Paranormal
Living With Ghosts: A Guide to the Paranormal
***********
Giant python digesting adult deer captured and killed in Florida
Officials in the Florida Everglades have captured and killed a 16-foot-long Burmese python that had just eaten an adult deer.
Scott Hardin exotic species coordinator for the Florida Fish and Wildlife Commission, said workers found the snake on Thursday. The reptile was one of the largest ever found in South Florida.
Hardin said the python had recently consumed a 76-pound female deer that had died. He said it was an important capture to help stop the spread of pythons further north. The python was killed with a shotgun blast.
Skip Snow, a biologist and python specialist at Everglades National Park, who conducted the snake necropsy, said the snake had a girth of 44 inches with the deer inside. "This is clearly an extreme event," he said. "It shows you they can eat huge things."
Exploring Wild South Florida
Florida's Snakes: A Guide to Their Identification and Habits
**********
Three-Eyed Nuclear 'Simpsons' Fish Caught
Seen here looking like about 40 fish sticks, a group of fishermen caught this three-eyed Simpsons 'blinky' fish in a lake near a nuclear power plant in Argentina. Jealous cyclops shark is jealous! Per Babel Fish (how appropriate!) translation:
"We were fishing and we took the surprise to remove this rare unit. As it were at night then we did not realize, but later it watched it to one with a lantern and it saw that it had a third eye", related Julian Zmutt, one of the fishermen.

Zmutt assured that it is the first time that happens to him and that the finding began to worry to the population because "it begins to speak of the nuclear power station".
Not gonna lie, I'd probably err on the side of safety and just not fish in the lake by the nuclear power plant. Bathe, sure, but I've always wanting a glowing peen that could guide me to the bathroom at night without having to turn on any lights. *methodically waving wiener down hallway like a movie usher*
Hit the jump for a closeup of the jeepers, creepers, seriously WHERE THE F*** did you get those peepers?! -
geekologie
Simpsons World: The Ultimate Episode Guide, Seasons 1-20
***********
UFO in Scotland sends frightened kids fleeing
Three Scottish kids were shocked when they saw a UFO on October 12.
The three boys were near Bridgend Court in Dingwall, Scotland at approximately 7:30pm that Wednesday night when they noticed a UFO above the trees that was "quite big in size but it wasn't going very fast." Cody MacKenzie, one of the boys who witnessed the UFO, told the Ross-shire Journal, "We were sitting down on the kerb when we heard this loud humming noise. We looked up and saw the UFO just above the trees. I thought it was a UFO right away. It was shaped like one and had coloured lights turning round and round underneath it. We didn't see anyone in it but the lower part of it was a silver colour – you could tell that because the lights were reflecting on it."
Cody also claims that he, his brother Keelin, and a friend also saw a black helicopter in the sky at the same time they saw the UFO. Cody describes hearing another UFO in the area, but never saw it.
The boys say they were frightened by the mysterious object, and feared it might land, so they quickly returned home.
According to the Ross-shire Journal, a Northern Constabulary spokesman in Dingwall said police had "received no reports of unexplained activity at that time." But Cody and the other kids know what they saw that night. Cody even created a sketch of the UFO to show his parents. -
openminds
UFO Case Files of Scotland (Amazing Real Life Alien Encounters)
A-Z of the Scottish Paranormal
Spirit Rescue International™
Providing no-cost professional spiritual help, personal support and guidance
Take the first step towards genuine peace of mind
The Spirit Rescue International™ Haunted Help Forum
*Join Our Group On Facebook*
Join Eric Altman and Lon Strickler each Sunday at 8 PM ET as we go
Beyond the Edge!
Astral Perceptions - Discussing ultraterrestrial and multidimensional phenomena and the proficiency of remote viewing
Join the
The Social - Paranormal Network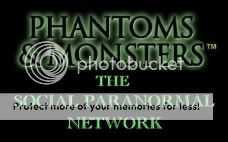 A NETWORK OF INVESTIGATORS, ENTHUSIASTS AND THOSE SEEKING THE TRUTH
THROUGH PARANORMAL EDUCATION AND DISCUSSION
ANOMALIST BOOKS
Works on maverick science, unexplained mysteries, unorthodox theories, strange talents, and unexpected discoveries. Please check out their excellent and diverse catalog
Become a fan of 'Phantoms and Monsters' at Facebook
"The latest news from beyond the mainstream"
Join Ben & Aaron for their weekly podcasts!
Check out Mysterious Universe Plus+ all access format!

Click here to check out Stan's most recent book!
Have you been looking for a great gift?
Instant 15% off your purchase - Use coupon code PH2011
Free shipping - Bonded dealer - PCI certified

***********
YOUR SUPPORT IS APPRECIATED!
I am committed to keeping 'Phantoms and Monsters' a free daily newsletter and publication...new subscriptions are still being accepted. The balance sheet is beginning to level out as a result of the readers' kind donations and a variety of advertising efforts...but sustained assistance is still needed.
Donations can be accepted through PayPal ('Donate' buttons are located below or
on the blog
or go to the
PayPal homepage
and send the donation to my user email -
lonstrickler@phantomsandmonsters.com
)...or simply send your contribution by mail.
Please consider endorsing 'Phantoms and Monsters' continued free services. BTW, I am always open to blog content suggestions and well-detailed submissions of your experiences. Thanks again...Lon
Lon Strickler
'Phantoms and Monsters'
26 Coachman Ct.
Randallstown, MD 21133
USA