This week BTE Radio returns live to the airways at 8:00 PM ET for two hours of spooky 'Halloween Open Mic
Fright Night
' discussion. Eric and Lon want to hear from you! Call in on the BTE Line at
724-824-1494
and help us haunt the airways with your scariest encounters, tales, stories or experiences. Is your house haunted? Have you seen Bigfoot? Been abducted by aliens? Experienced something you just can't explain? We want to hear about it!
And you never know...there just may be a special prize for the best spooky story!
Join Eric and Lon on the 'Devil's Night' as we celebrate Halloween, and wrap up Shocktober with your own spooky stories and tales, along with our ours. Tune in live this Sunday, October 30th at 8:00 PM to 10:00 PM ET as we go 'Beyond the Edge!'
SEE YOU IN THE CHAT ROOM!
Join Eric Altman and Lon Strickler each Sunday at 8 PM ET as we go
Beyond the Edge!
Spirit Rescue International™
Providing no-cost professional spiritual help, personal support and guidance
Take the first step towards genuine peace of mind
The Spirit Rescue International™ Haunted Help Forum
*Join Our Group On Facebook*
Join Eric Altman and Lon Strickler each Sunday at 8 PM ET as we go
Beyond the Edge!
Astral Perceptions - Discussing ultraterrestrial and multidimensional phenomena and the proficiency of remote viewing
Join the
The Social - Paranormal Network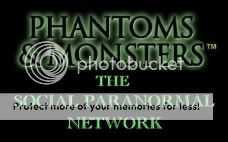 A NETWORK OF INVESTIGATORS, ENTHUSIASTS AND THOSE SEEKING THE TRUTH
THROUGH PARANORMAL EDUCATION AND DISCUSSION
ANOMALIST BOOKS
Works on maverick science, unexplained mysteries, unorthodox theories, strange talents, and unexpected discoveries. Please check out their excellent and diverse catalog
Become a fan of 'Phantoms and Monsters' at Facebook
"The latest news from beyond the mainstream"
Join Ben & Aaron for their weekly podcasts!
Check out Mysterious Universe Plus+ all access format!

Click here to check out Stan's most recent book!
Have you been looking for a great gift?
Instant 15% off your purchase - Use coupon code PH2011
Free shipping - Bonded dealer - PCI certified