Terror of family who claim their five-year old son is haunted by the 'man with grey skin'
<--
Can you see the face in on the wall?
A father has told how his five-year-old son claims he has been troubled by visions of a ghostly man with grey skin who speaks to him in the night.
Dave Gerrity, 41, said his son Dagan first complained about seeing something in his bedroom in the family's Bridlington home around six months ago.
Mr Gerrity said: 'Dagan is scared about it. He cries about it. He's told us that at night he can't sleep because a man with grey skin comes and sits on his bed and keeps him awake talking to him.
'The first time it happened, Dagan's mum Emma and I heard him crying on the baby monitor. I went up to him and he was just crying his eyes out.
'At first I thought it was just his imagination, or he had had a bad dream.
'Of course you never expect this kind of thing to be true, I've never believed in this kind of thing before. But there's no denying it now.
'There have been times when we've been in the room with him and we see him looking up into the corner of the room and speaking.'
Mr Gerrity also told how the 'ghost' was seen shuffling furniture in his son's bedroom.
He added: 'We have a double bed in the room which is balanced on its side, and there's a blue plastic table on top of it.
'Dagan told me that in the night, the table was picked up and moved by itself.
'This table is much too high for him to reach himself. I've put him to bed when the table has been on top of the bed, then come back in the morning to find it moved.
Mr Gerrity told how guests to his home say they have also spotted the face of a man on the walls on the dining room of their three-storey house after it was re-plastered.
'The wall was completely stripped back before it was plastered and there was nothing on it, no pattern.
'But when the plaster was drying, we could see a face start to appear. Now there is a 6ft by 6ft face of a man on the wall.
'People come round to our house and see it straight away - you can't miss it. It spooks everybody out.
'I've been plastering for 24 years and never seen anything like this before."
The family's next-door neighbours, on the other side of the re-plastered wall, say they have also experienced paranormal activity.
Mr Gerrity said: 'I've been in my house and heard banging coming from the top floor next door.
'I know they've been doing some refurbishment so I expected it was workmen, as I could hear sawing and chatter.
'But then, my next door neighbour came round and said "Dave, please come round and look upstairs, I can hear noises and there's no-one else in".
'I've gone to look for myself and she's right - there's no-one up there.
'The whole thing has got us really spooked. My wife wants to move, she doesn't want to stay in the house anymore.
'It's a shame because we've just done up the house, but it's even creepy for me. I'm a bit scared to be downstairs in the dining room by myself.
'I think that all the work that's been going on - both next door and in our house - has disturbed a spirit.' -
dailymail
Kids Who See Ghosts: How to Guide Them Through Fear
**********
Not Photoshopped: Beam of Light Shines on Fallen Soldier's Miracle Dog
It was an overcast day in Newport, N.H., when a simple "20/20? shoot turned into something that made me wonder about life after death.
I was filming soldier Justin Rollin's parents Skip and Rhonda playing with their dog Hero,
whose rescue from the Iraq War zone
where Justin died was nothing short of a miracle.
Sometimes when Rhonda hugged Hero she would softly pet her face and coo, "Justin, are you in there?" It was Rhonda's gentle way of remembering their son and his last living connection to Hero. At one point, Hero wandered off and took a stroll in the backyard. All of a sudden, the clouds broke and a light began to solidify in a beam directly down on Hero — a kind of vertical halo.
As this dramatic ray of light was shining on Hero she turned to look at me, and it was all I could do to hold the camera steady and not drop it in astonishment. It was an unforgettable moment, and made me wonder if in fact Justin was in there. Then the light vanished.
I couldn't wait to check my camera's playback to see if it caught the stunning beam. When I saw that it did, I was so happy that I burst out dancing. It was a great moment to share with Justin's parents. We all laughed together, and wondered if perhaps this had been a sign from Justin. -
Yahoo
Also...
More of the story here
**********
Woman struggles to sleep because of groping ghost
A poltergeist that haunts a Herne Bay flat is upsetting granny Doris Birch, she claims.
The 73-year-old former nursing home assistant says she can no longer sleep at night as she struggles to fight off the groping ghost.
She said: "It's like an octopus. It started four months ago. I was lying in bed when I felt this creepy pair of hands.
"I kicked frantically and it went away. Next time it came I hurled the duvet on to the floor!
"But the ghost keeps coming back. I've tried sleeping without the duvet. But it started shaking my mattress.
"I even threw the mattress off the bed and bought a new one but it has made no difference.
"I told my 16-year-old granddaughter and she was gobsmacked. She said I must be joking.
"People are going to think I am mad but it is as real as the day to me. I'm not lonely. I love living alone.
"But this is very creepy and is giving me the jitters. It's harassing me. I need to call in the Ghostbusters.
"I told the vicar and he said it is a lost spirit. What I want to know is, why has it got lost in my flat?"
But help is at hand thanks to the Herne Bay Times.
We contacted husband-and-wife ghost-hunters Ray and Beryl Herne from Central Parade to send the poltergeist packing.
Spirit medium Ray, a 52-year-old lorry driver, says he can draw the gross ghost into him while Beryl, 59, will envelope it in a "vortex of light" and send it to the "other side."
Beryl said: "Sometimes spirits need to be here. There is usually a reason. Sometimes it's family. Sometimes we have to alleviate some stress."
Methodist Minister Hugh-Nigel Sheehan, 68, of Mortimer Street's United Church, said: "I was approached by Mrs Birch but I fear I am not in a position to help. Fools rush in where angels fear to tread.
"I have no expertise in this at all. I am neither a trained counsellor nor from a church with a tradition of exorcism such as the Catholic Church. It is very difficult to know how to respond." -
thisiskent
The Poltergeist Phenomenon: An In-depth Investigation Into Floating Beds, Smashing Glass, and Other Unexplained Disturbances
**********
The Mysterious Harlequin — Part One
Magic Translation and Flowers
The Singularity is Here: Human Knowledge and the Coming Intelligence Explosion
Touring Haunted Sites in Madrid
Chased by Old Lady With a Hunchback
Attacked By a Violent Spirit
Is Hot Rod Dogs Haunted?
A Haunting in the Valley
Our Ghostly Stay at 17Hundred90 Inn
Hearing Voices at Night
Psychic Convinced Demi Moore to Leave Ashton Kutcher
The Dorm Room Spirit
Haunt Jaunts First Newsletter
Horrifying Ghost of Murray County
Mystery footsteps heard at museum in Templeton
Depleted Texas lakes expose ghost towns, graves
The Hillsboro Horror Ghost in Jasper County
Harare woman dumps six month old baby to date her father's goblin
The Wooragee Ghost, the Crying Girl and the Cooeeing Woman
Shoulder-Tapping Ghost
The Obsessive Ghost
Haunted Chessmen
Human magnets and their repulsive claims
'Haunted Earth Investigations' -
GHOST CAUGHT ON CAMERA! THORPE LODGE INVESTIGATION
Haunted History: Haunted Histories Collection (Hauntings / Vampire Secrets / Salem Witch Trails / The Haunted History of Halloween / Poltergeist) (History Channel)
Spirit Rescue International™
Providing no-cost professional spiritual help, personal support and guidance
Take the first step towards genuine peace of mind
The Spirit Rescue International™ Haunted Help Forum
*Join Our Group On Facebook*
Join Eric Altman and Lon Strickler each Sunday at 8 PM ET as we go
Beyond the Edge!
Astral Perceptions - Discussing ultraterrestrial and multidimensional phenomena and the proficiency of remote viewing
Join the
The Social - Paranormal Network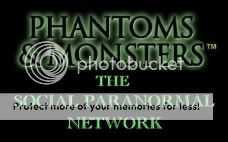 A NETWORK OF INVESTIGATORS, ENTHUSIASTS AND THOSE SEEKING THE TRUTH
THROUGH PARANORMAL EDUCATION AND DISCUSSION
ANOMALIST BOOKS
Works on maverick science, unexplained mysteries, unorthodox theories, strange talents, and unexpected discoveries. Please check out their excellent and diverse catalog
Become a fan of 'Phantoms and Monsters' at Facebook
"The latest news from beyond the mainstream"
Join Ben & Aaron for their weekly podcasts!
Check out Mysterious Universe Plus+ all access format!
Have you been looking for a great gift?
Instant 15% off your purchase - Use coupon code PH2011
Free shipping - Bonded dealer - PCI certified