Fake Ghost Photos Haunt Real Researchers
Let's say you're interested in ghosts, but haven't had any luck photographing them on any of your nocturnal visits to local cemeteries and abandoned insane asylums. The ghost-hunting guys on TV seem to capture plenty of ambiguous images (in between surprised looks and spooked "What-was-that?" exchanges), so why can't you?
Fear not; technology can help you easily fake ghost photos, though it comes at the cost of making it harder for serious ghost researchers to do their jobs.
These days almost everyone has a HD camera in their pocket in the form of a smartphone. So many people have high-quality cameras on them at virtually all the time that if ghosts exist,actual photographic evidence of them should be pouring in as more and more eyewitnesses record their amazing encounters.
Yet that hasn't happened; in fact, the evidence for ghosts seems to be getting worse, not better, in large part due to pranksters and ghost-generating apps. Several smartphone apps allow their users to easily tweak photos to make them look strange or mysterious, adding quasi-transparent ghostly images in the background. Up until a year or two ago, it took at least a little bit of effort to Photoshop an even halfway convincing snapshot of your recently departed grandmother's spirit appearing in an otherwise ordinary photo. With the help of these mobile apps, all it takes is a few pushes of a button to add shadowy or faint figures of spooky little girls, Confederate soldiers, outlaws, monks and any other historical (or horror film) caricature you can think of. [Why Ghosts Get Spooked by HD Cameras]
Faking images of spirits for fun and profit has a long tradition. In fact, the very first ghost photographs were hoaxes. William Mumler, a Boston-based photographer, first produced "spirit photographs" in 1861 anddozens more in the following decade. Mumler convinced many people that he andhis camera could photograph the spirit world.It wasn't true, of course, and Mumler was eventually revealed asa hoaxer and con artist. The "ghosts" he captured were merely double exposures of previous clients, notimages of the dead.
Bogus ghost photos have been around for years, but with so many fakes, how can you tell which photos (if any) really show something possibly paranormal? It's not easy.
In fact, faked ghost photos might even be damaging to the work of those who analyze ghostly photos, hoping to find evidence that ghosts exist.
One group in the United Kingdom that has raised concerns over the rise in fake ghost photos is the Association for the Scientific Study of Anomalous Phenomena (ASSAP).Carrie Searley of ASSAP told Life's Little Mysteries, "Fake ghost photography is in the minority, however, it does occur. Here at ASSAP we like to turn it into a positive... one of our aims is to offer a scientific explanation as to the methodology used in creating a fake ghost photograph."
Before digital photography replaced film, investigators could examine the photograph's negative for evidence of fraud. "In the digital age of photography, being able to authenticate a photo can be tricky, as no negative is made," Searley said. "It is purely down to us to educate ourselves with the up-and-coming new photo apps that are being offered on the market."
To that end, ASSAP has requested the public's help in cataloguing known fakes created by sneaky smartphone apps. Of course, it will be a never-ending project, because new apps can be created (and old apps tweaked) to keep ahead of the fake-photo ghost busters.
The techniques and technology for faking ghost photos have changed in the last 150 years, but William Mumler would most likely be amused to know that others have carried on his not-so-proud tradition. -
livescience
Picture Yourself Capturing Ghosts on Film
Ghosts in Photographs: The Extraordinary Story of Spirit Photography
**********
Pete Doherty 'convinced his flat is haunted by the ghost of Amy Winehouse'
Pete Doherty is apparently convinced that he is being haunted by the ghost of Amy Winehouse, according to tabloid reports.
A source close to the former Libertines man is quoted in The Sun as saying that Doherty has fled to Paris as he is actively convinced that the ghost of the 'Back To Black' singer is haunting his flat.
The source told the paper: "He is utterly convinced that he has seen her [Winehouse] ghost. A lot of people will think his visions are probably drug-induced but he claims he is clean."
Doherty was close friends with the singer and has paid tribute to her during his live shows throughout the summer.
The former Libertines co-frontman was released from prison earlier this summer after serving time for cocaine possession. He will next be seen starring opposite fellow musician/actor Charlotte Gainsbourg in a film where he portrays French poet and novelist Alfred de Musset. The film is due out next year. -
nme
I Told You I Was Trouble: Amy Winehouse Live From London
Winehouse, Amy - In Memory Of: Unauthorized
**********
Doctors pull 28 nails from girl's body
Doctors in eastern Indonesia have removed the last of 28 nails found embedded in a three-year-old girl's legs and back in a horrific case some residents and officials blamed on witchcraft.
The doctors in Makassar on Sulawesi island had already removed more than two dozen 10-centimetre rusty nails, broken syringe needles and aluminium rods from the girl's legs before removing a nail lodged dangerously close to her spine.
"The girl is recovering from the operation and is generally in good condition. She is already playing again," the girl's surgeon Kamaruddin said.
X-rays in September revealed the foreign objects in the girl's legs and back, prompting suspicions among local residents that they had been inserted magically.
The governor of South Sulawesi province, Syahrul Yasin Limpo, visited the victim and said he believed witchcraft was to blame.
"Believe it or not, in South Sulawesi it is possible for these sorts of things to happen," Mr Syahrul was quoted as saying by local media.
"We have often heard about people whose heads suddenly go soft and medics have no idea what the cause is. It's called magic and it's explained in the Koran."
Doctors said scars on the girl's legs showed the nails had been inserted by a person over a six-month period.
The girl's parents told media the scars were from the girl trying to remove the nails and that they had no knowledge of how the nails got there.
Indonesia is a mainly Muslim nation but belief in black magic is widespread.
In 2009 president Susilo Bambang Yudhoyono accused his political opponents of putting black magic spells on him ahead of the presidential election. -
abc.net.au
The Book of Black Magic and Ceremonial Magic
Naming the Witch (Cultural Memory in the Present)
**********
Maybe my house is haunted!
I'm not just referring to the strange sounds a house makes - the creaks and squeaks and moans and groans. My house is old. So am I. The walls within the house, like the bones within my body, could simply be voicing the stress and strains of aging. I, too, creak and squeak and moan and groan at times.
But also, every now and again, when I've been completely alone in my house, I've felt a soft touch on my arm or shoulder or even what felt like a pat on the back from an invisible source. It hasn't been particularly scary. It's more like a greeting or a reassurance that things are fine. Skeptics would pass it off by calling it "muscle spasms" or maybe "twitching nerves." Skeptics always have logical answers.
Then there's the disappearing things. This seems to be a common occurrence in many households. My house is no exception. The fact that the items vanish and then reappear later makes it easy to put the blame on faulty memory. However, it could be that a playful ghost does these things when I'm not looking. I don't know. I haven't seen a ghost.
But, last week there were several strange happenings at my house that caused me to wonder about the "haunting" thought.
Planning to send a message to a friend, I turned on my computer, clicked onto the Internet, went to my email and then put her address on the proper line.
At that time, for no good reason, I decided to leave my email for a moment while I went into the next room to change the channel on the television set. The remote control refused to work, which was something it had never done. It wouldn't switch channels. I tried over and over again - to no avail. It wouldn't budge. So, not knowing what else to do, I walked away from the television and back to the computer.
To my surprise, when I got there, I saw that the address I'd had on the screen had disappeared. So, I filled in the address again; wrote a brief message to my friend; and sent it on its way.
After that, I tried the television remote again and found that it worked perfectly. In fact, it has functioned perfectly ever since.
Then, I was surprised for a second time when I saw a brief note on my computer from the friend to whom I'd sent the message. "Was that ever short and sweet!"
What?
Since her message was a reply to mine, I read further. She wasn't answering the brief note I'd sent. It was a completely different one. The message to which she referred only said, "hi!" It was in the smallest print possible rather than the large font I always used. And that's all there was to the message - no greeting, no signature, nothing more - just "hi!"
So who sent the message? I didn't. Nor could it have been an accidental click by me. My cursor was nowhere near the "send" space.
But, a message was sent and received.
I don't know what or who interfered with my television set, nor what or who sent that email message at the same time. But these things do make me wonder. Maybe my house is haunted! -
Lynn Lofiego - Senior Coastsiders Writer's WorkshopExposed, Uncovered & Declassified: Ghosts, Spirits, & Hauntings: Am I Being Haunted? (Exposed, Uncovered, and Declassified)
Haunted: Living With Ghosts
**********
Dreams And Memories Of The Dead
Thanksgiving Shadow Giant
Ghostly Photo Revealed from Newburg Inn
Irish shopping centre ghost?
Mischievous Ghosts Bring Prosperity in Japan
The House Along Cemetery Road
Can Mediums Really Talk to the Dead?
The Ghost Experiment That Never Was
Western Cape Premier complains Official Residence is haunted
Ghosts - not always what they seem!
The Grieving Ghost of Mary Jo
Teens discuss life in a haunted house
Argentina: Ghost in Birthday Party Video
Voyage to the Land of the Living Dead
Ghosthunters claim 'entity' haunts Fort
Lifting the veil of the paranormal world
Dowsing competition pits diehard believers against sceptics
Highlands is Scotland's most haunted area, medium says
An interview with the creator of Wicked Walks Ghost Tours app
The Curse of the Scottish Play
Which is the True Grail?
Psychic ability: not just for side shows anymore
Ghost Activity in Scotland
Hearing Voices at Night
Spirit Rescue International™
Providing no-cost professional spiritual help, personal support and guidance
Take the first step towards genuine peace of mind
The Spirit Rescue International™ Haunted Help Forum
*Join Our Group On Facebook*
Join Eric Altman and Lon Strickler each Sunday at 8 PM ET as we go
Beyond the Edge!
Astral Perceptions - Discussing ultraterrestrial and multidimensional phenomena and the proficiency of remote viewing
Join the
The Social - Paranormal Network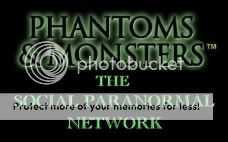 A NETWORK OF INVESTIGATORS, ENTHUSIASTS AND THOSE SEEKING THE TRUTH
THROUGH PARANORMAL EDUCATION AND DISCUSSION
ANOMALIST BOOKS
Works on maverick science, unexplained mysteries, unorthodox theories, strange talents, and unexpected discoveries. Please check out their excellent and diverse catalog
Become a fan of 'Phantoms and Monsters' at Facebook
"The latest news from beyond the mainstream"
Join Ben & Aaron for their weekly podcasts!
Check out Mysterious Universe Plus+ all access format!
Have you been looking for a great gift?
Instant 15% off your purchase - Use coupon code PH2011
Free shipping - Bonded dealer - PCI certified

***********
YOUR SUPPORT IS NEEDED!
Donations can be accepted through PayPal - 'Donate' buttons are located below or on the blog or go to the PayPal homepage and send the donation to my user email - lonstrickler@phantomsandmonsters.com.

Please help in keeping 'Phantoms and Monsters' a free service.

BTW, I am always open to blog content suggestions and well-detailed submissions of your experiences. Thanks again...Lon