I have to admit that this video has much of the criteria needed to make a reasonable argument that these creatures do exist. The witness, Timbergiant, IMO is very believable and the explanation offered by FB/FB and Timbergiant make this video a very intriguing piece of evidence. I don't normally give credence to Bigfoot videos but I do take my 'hat off' for this presentation.
Click for video - Ontario, Canada Bigfoot
Statement with video:
Thanks to FB/FB for this, and of course Timbergiant bigfoot.
Timbergiant films Sasquatch flanking him November 21st 2011 Ontario, Canada. This is the third video by TMBGT to make the list. Confirms on Coned head, Bent legs, tree hiding, high shoulders, consistent coloring. This shows just how strategic Sasquatch are. We include some clips of Jim and how the video came to be. Jim goes deep and goes solo. Sasquatch is on film for 28 seconds.On the Track of the Sasquatch Book 1: Encounters with Bigfoot from California to Canada (1980's Edition)
Notes From the Field, Tracking North America's Sasquatch
Spirit Rescue International™
Providing no-cost professional spiritual help, personal support and guidance
Take the first step towards genuine peace of mind
The Spirit Rescue International™ Haunted Help Forum
*Join Our Group On Facebook*
Join Eric Altman and Lon Strickler each Sunday at 8 PM ET as we go
Beyond the Edge!
Astral Perceptions - Discussing ultraterrestrial and multidimensional phenomena and the proficiency of remote viewing
Join the
The Social - Paranormal Network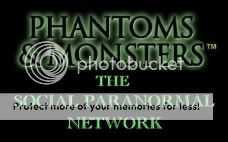 A NETWORK OF INVESTIGATORS, ENTHUSIASTS AND THOSE SEEKING THE TRUTH
THROUGH PARANORMAL EDUCATION AND DISCUSSION
ANOMALIST BOOKS
Works on maverick science, unexplained mysteries, unorthodox theories, strange talents, and unexpected discoveries. Please check out their excellent and diverse catalog
Become a fan of 'Phantoms and Monsters' at Facebook
"The latest news from beyond the mainstream"
Join Ben & Aaron for their weekly podcasts!
Check out Mysterious Universe Plus+ all access format!
Have you been looking for a great gift?
Instant 15% off your purchase - Use coupon code PH2011
Free shipping - Bonded dealer - PCI certified