The recently
reopened case of actress Natalie Wood's drowning death
focuses on new information that may implicate those on board the boat the actress fell from 30 years ago, including the boat's captain, who has passed a lie detector test.
Dennis Davern, the captain of the Splendour, the yacht which the actors were staying on, said that he heard Wood and husband Robert Wagner arguing moments before she disappeared. Davern has said that he believes Wagner had a role in Wood's death.
Davern had a lie detector test performed on him by examiner Howard Temple, who says that the results of the polygraph "indicated he was telling the truth."
In this exclusive interview with "Good Morning America," Temple said Davern told him that after Wood's death Wagner instructed him to not speak about the drowning.
"Davern made the statement that he stayed at the Wagner home … [was] told not to talk …Wagner paid for his therapy, and Davern could not leave the estate without bodyguards," Temple said.
In an NBC interview last week, Davern said "Yes I would say so," when asked about Wagner's responsibility. He admitted that he may have been at fault as well, saying, "We didn't take any steps to see if we could locate her. It was a matter of don't look too hard, don't turn on search light, don't call anyone."
Davern also said that he lied to officials in the initial police report. It is unclear whether he could face charges if that's true.
Davern's motives in revealing this new information regarding the night of Wood's death have been called into question after he co-authored a book about the actress's death. He and Marti Rulli wrote the 2009 book
Goodbye Natalie, Goodbye Splendour
about the circumstances surrounding the actress' death. He and Lana Wood, Natalie Wood's sister, asked authorities to re-open the case last year.
ABC News has learned that detectives have now interviewed Marilyn Wayne, the boater who was aboard a ship 40 yards away that night in 1981. She claims she heard Wood screaming for help moments before she allegedly drowned off the coast of Catalina Island in California.
"They talked to me about what I remember from the case all those years ago," Wayne told "Entertainment Tonight."
Wood, the star of film classics like "West Side Story" and "Rebel Without a Cause," apparently drowned while boating with Wagner and actor Christopher Walken, with whom she was filming what would be her last role in the movie
Brainstorm (Remastered Edition)
The official cause of Wood's death was determined to be accidental drowning, but because there has been little concrete information about the circumstances surrounding the events of that night, speculation has been rife and the case remains one of Hollywood's longest-running mysteries.
Lifeguard Roger Smith, who pulled Wood's body out of the water, has told "Good Morning America" that he believes the actress may have floated alive for hours.
"I could have saved her," Smith said, adding that he was "not called in time."
So far Wagner and Walken, the two men with Wood that night, are keeping quiet regarding the reopening of the case.
When gossip website TMZ.com caught up with Walken in West Hollywood Tuesday to ask him what he thinks about the reopening of the case, Walken simply said, "I don't know."
Wagner, the now 81-year-old star of the TV series "Hart to Hart," is still hard at work, making an appearance as a murder suspect on an episode of CBS' "NCIS" this week.
Wagner was not charged in Wood's death, and police plan to reach out to him as part of the re-opened investigation. They say he is not a suspect. -
abcnews
NOTE: I don't normally post the celebrity 'gossip' type stuff but there is some interest in this incident so I decided to go ahead with it....besides, it's a slow news day. I received the following email on Monday November 21st. I can't verify the information but simply posting 'as is' for information purposes:

Hello Lon.

Regarding Natalie Wood...

I heard something rather surprising one night in the early 1980s. I was at Trump's restaurant. It was a swanky place at the corner of Roberson and Melrose on the edge of West Hollywood just shy of Beverly Hills. I knew the bartender. He told me that one of the Wagner daughters was in the night before. She was upset and drunk. She told the bartender that she had just discovered that her father, Robert Wagner, was having an affair with Christopher Walken.

It's possible that Nathalie that night aboard 'The Splendor' walked-in on a gay moment between R.J. and Walken and mayhem broke-out.

Kent M.
-----
The following was found after a bit of research:
Actor Robert La Tourneaux gave an interview to a gay magazine naming his famous married closeted bisexual lovers; alleging one of them to have been Academy award-winning actor Christopher Walken, whom he met through Mart Crowley. He also accused Walken of having an affair with another married actor, Robert Wagner, on the night of actress Natalie Wood's (Wagner's wife) unexplained death. -
Broadway Babylon
by Boze HadleighGoodbye Natalie, Goodbye Splendour
Hollywood Babylon Strikes Again!: More Exhibitions! More Sex! More Sin! More Scandals Unfit to Print (Blood Moon's Babylon)
Natalie Wood Collection (Splendor in the Grass / Sex and the Single Girl / Inside Daisy Clover / Gypsy / Bombers B-52 / Cash McCall)
Spirit Rescue International™
Providing no-cost professional spiritual help, personal support and guidance
Take the first step towards genuine peace of mind
The Spirit Rescue International™ Haunted Help Forum
*Join Our Group On Facebook*
Join Eric Altman and Lon Strickler each Sunday at 8 PM ET as we go
Beyond the Edge!
Astral Perceptions - Discussing ultraterrestrial and multidimensional phenomena and the proficiency of remote viewing
Join the
The Social - Paranormal Network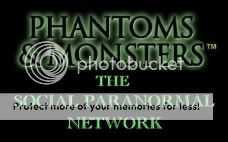 A NETWORK OF INVESTIGATORS, ENTHUSIASTS AND THOSE SEEKING THE TRUTH
THROUGH PARANORMAL EDUCATION AND DISCUSSION
ANOMALIST BOOKS
Works on maverick science, unexplained mysteries, unorthodox theories, strange talents, and unexpected discoveries. Please check out their excellent and diverse catalog
Become a fan of 'Phantoms and Monsters' at Facebook
"The latest news from beyond the mainstream"
Join Ben & Aaron for their weekly podcasts!
Check out Mysterious Universe Plus+ all access format!
Have you been looking for a great gift?
Instant 15% off your purchase - Use coupon code PH2011
Free shipping - Bonded dealer - PCI certified