At the modest age of 30, Chester Moore Jr. is one of the most widely recognized and respected wildlife journalists, lecturers and field researchers in North America. A lifelong outdoorsman and naturalist, Moore has launched several zoological expeditions, ranging from the wilds of Canada to the Louisiana Bayou to jungles South America, in search of such elusive beasts as the Ivory-Billed Woodpecker and the Hairy-Hominid known colloquially as Bigfoot.
Renowned for his journalistic, conservationist and photographic excellence, Moore has been the recipient of multiple awards, and has also lent his media expertise to numerous television and radio programs, including two episodes of Ted Nugent's "Spirit of the Wild" PBS series and six episodes of Fox Sports "Outdoor Adventures". Most recently he has completed the "Southern Fried Bigfoot" documentary, which will be released sometime this year.
Since 1992, Moore has written over 300 articles, which have appeared in such magazines as The Anomalist, Texas Parks & Wildlife, Adventure Outdoors, Animals & Men and Louisiana Sportsman, and has published nearly 1,000 newspaper stories, covering a variety of cryptozoological and non-cryptozoological subjects. His columns on hunting, angling, and wildlife appear weekly in the Port Arthur News and Orange Leader newspapers and monthly in Texas Fish & Game magazine.
Moore has also taken the time from his hectic schedule to author no less than five books, on topics ranging from the Southern Bigfoot phenomenon to angling techniques for Texas Trout fishermen. His most recent publication: "Boogers, Bears, Birds and Beasts: Cryptozoology in the American South", which he co-authored with acclaimed Professor Link Hullar, covers a multitude of topics including the Fouke Monster mystery, which has become popularized as "The Legend of Boggy Creek", giant alligator garfish, mysterious cats, presumed to be extinct red wolves and many others!
A dedicated cryptozoological investigator, Moore is the creator of the site and is the host and founder of the annual Southern Crypto Conference, which presents awards to other industrious investigators and brings together individuals from numerous scientific and cryptozoological disciplines for the purpose of disseminating information and informing the public regarding the latest Southern cryptozoological developments.
The proceeds from this event, as well as all profits made from Moore's books, are funneled back into field research and into the "Cryptokeeper Wildlife Habitat Education Fund", which has created five new displays relating the importance of hardwood bottomlands conservation, and will be donated to schools throughout Texas. These displays will be accompanied with a curriculum created by Moore, which teaches children about conservation and endangered species. This is yet another reason why Moore's work is held in such high esteem.
In addition to his cryptozoological exploits, Moore is also an avid adventurer, musician, scuba diver and martial artist. He has caged dived with great white sharks of the coast of the Farallon Islands, and also serves as the host of "Chester Moore Outdoors" a weekly radio program on
Newstalk AM 560 KLVI
.
Texas Reds (Saltwater Strategies)
Texas Waterfowl
Texas Trout Tactics
Flounder Fever
SEE YOU IN THE CHAT ROOM!
Join Eric Altman and Lon Strickler each Sunday at 8 PM ET as we go
Beyond the Edge!
Spirit Rescue International™
Providing no-cost professional spiritual help, personal support and guidance
Take the first step towards genuine peace of mind
The Spirit Rescue International™ Haunted Help Forum
*Join Our Group On Facebook*
Join Eric Altman and Lon Strickler each Sunday at 8 PM ET as we go
Beyond the Edge!
Astral Perceptions - Discussing ultraterrestrial and multidimensional phenomena and the proficiency of remote viewing
Join the
The Social - Paranormal Network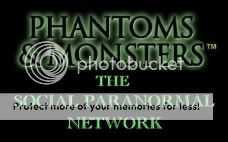 A NETWORK OF INVESTIGATORS, ENTHUSIASTS AND THOSE SEEKING THE TRUTH
THROUGH PARANORMAL EDUCATION AND DISCUSSION
ANOMALIST BOOKS
Works on maverick science, unexplained mysteries, unorthodox theories, strange talents, and unexpected discoveries. Please check out their excellent and diverse catalog
Become a fan of 'Phantoms and Monsters' at Facebook
"The latest news from beyond the mainstream"
Join Ben & Aaron for their weekly podcasts!
Check out Mysterious Universe Plus+ all access format!
Have you been looking for a great gift?
Instant 15% off your purchase - Use coupon code PH2011
Free shipping - Bonded dealer - PCI certified